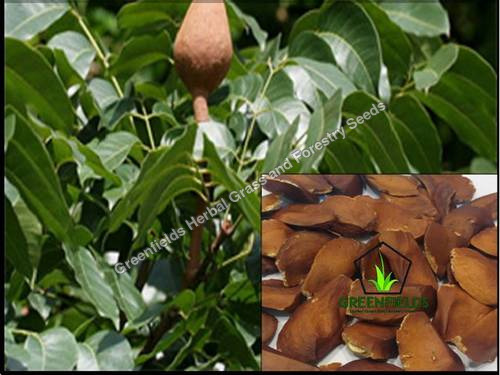 Price And Quantity
700 INR

1.00 - 1000.00 INR

5 Kilograms
Trade Information
2000 Kilograms Per Year

7 days Days

PP bags

All India
Product Description
Excellent quality Mahogany seeds (Swietenia macrophylla) with high germination, and could be provided in any part of India.
Scientific Name:- Swietenia macrophylla
Shape:- Oval like a spoon
Size:- 2 - 3 cm
Color: Radish Brown
Usage: Germination
Age: -Fresh
Origin: India
Packing: -5, 10,20,25,50 (P/P)
Availability: Throughout the year
Category:- Tree / Forestry seeds
Details :
Botanical Name : Milletia pinnata
English Name : Indian Beech, Pongam Oil Tree
Hindi Name : Karanj, Papar
Family : Fabaceae
Propagation:
 Through seed, shoot cuttings and root suckers, Seed number 810 to 1410 per kg., and remain viable for one year. Seed are soaked in water for 24 hrs. Germination rate varies 60 to 89% Germination is completed in about 10 to 60 days. Mahogany refers to the straight-grained, reddish-brown timber of three tropical hardwood species of the genus Swietenia, part of the chinaberry family, Meliaceae, indigenous to the Americas.
West Indian or Cuban mahogany (Swietenia mahagoni), native to southern Florida and the Caribbean, formerly dominant in the mahogany trade, but not in widespread commercial use since World War II. Illegal logging of S. macrophylla, and its highly destructive environmental effects, led to the species' placement in 2003 on Appendix II of Convention on International Trade in Endangered Species (CITIES), the first time that a high-volume, high-value tree was listed on Appendix II.
The natural distribution of these species within the Americas is geographically distinct. S. mahagoni grows on the West Indian islands as far north as the Bahamas, the Florida Keys and parts of Florida; S. humilis grows in the dry regions of the Pacific coast of Central America from south-western Mexico to Costa Rica; S. macrophylla grows in Central America from Yucatan southwards and into South America, extending as far as Peru, Bolivia and extreme western Brazil. In the 20th century various botanists attempted to further define S. macrophylla in South America as a new species, such as S. candollei Pittier and S. tessmannii Harms., but many authorities consider these spurious. According to Record and Hess, all of the mahogany of continental North and South America can be considered as one botanical species, Swietenia macrophylla King.
Uses:
Mahogany has a straight, fine and even grain, and is relatively free of voids and pockets. Its reddish-brown color darkens over time, and displays a reddish sheen when polished. It has excellent workability, and is very durable. Historically, the tree's girth allowed for wide boards from traditional mahogany species. These properties make it a favorable wood for crafting cabinets and furniture.
Much of the first-quality furniture made in the American colonies from the mid 18th century was made of mahogany, when the wood first became available to American craftsmen. Mahogany is still widely used for fine furniture; however, the rarity of Cuban mahogany and over harvesting of Honduras and Brazilian mahogany has diminished their use. Mahogany also resists wood rot, making it attractive in boat construction. It is also often used for musical instruments, particularly the backs, sides and necks of acoustic guitars and drum shells because of its ability to produce a very deep, warm tone compared to other commonly used woods such as maple or birch. Guitars featuring mahogany in their construction include Martin D-15, Gibson Les Paul models and Tim Armstrong's highly popular signature Fender model, the Hellcat.
Enter Buying Requirement Details
Other Products in 'Tree / Forestry Seeds' category